Χανιά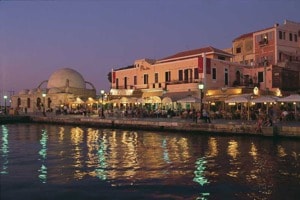 Chania is the largest and most important town of western Crete, with a population of over 60,000 inhabitants. It is situated on the eastern shore of the bay of Chania, and is built on the neck of the peninsula, on the site of ancient Kydonia. It is the administrative, commercial, economic and communications centre of the prefecture of the same name, of which it is the capital. The city of Chania has without doubt preserved its historical character unchangeable over the years. The Venetian harbor, Minares, the narrow streets of the old town, Firkas fortress, Venizelos birth town, Halepa with its old mansions, the National garden are some of the many sights of the city.
The cultural background of Chania is very rich, first of all due to the town's long history and its interaction with many diverse civilizations in the past. Furthermore the location of Crete (immediately connected to Athens, situated between Europe, Asia and Africa) as well as the cosmopolitan atmosphere that tourism creates, have generally kept the town up-to-date with modern advances in art and knowledge. Currently, there are several museums, art galleries, theatre and music groups, educational and research institutions within the city.
Cretan cuisine is famous Worldwide for its unique taste in food and the use of biological products. Kalitsounia, saliggaria, pilafi, tsigariasto, chorta are some of the traditional dishes you can enjoy in the taverns.
View
Kiani Villas
in a larger map
Σταυρός
Stavros is a small village located on the north-western tip of the peninsula of Akrotiri at a distance of 14 km from Chania. It is well-known for its beautiful little bay set against a back drop of a sharply rising, pointed mountain - this where the beach scenes in the Zorbas movie were filmed - and a longer, almost deserted sandy beach.
Transport
Airports
There are two big airports in Heraklio and in Chania. Daily domestic and international flights.
Ports
Crete has two big ports: one in Heraklio and another near Chania. Daily routes to/from Piraeus, Athens. Ask us for more details.